Perfect swimming sets for men and women for a picnic at the lake
2022-03-14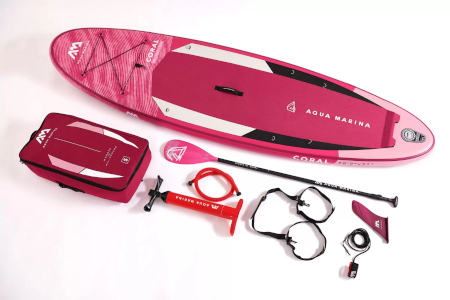 Have fun together during those few free days at the start of May. Unfortunately, it is hard to swim on the inflated mattress, so if you are going to visit Masurian lakes this year you must have a SUP board. Stand-up Paddling gets even more popular recently, not only in Poland, but all over the world.

Links to all articles.
SUP BOARD

An offer for women

Vapor - SUP board for women, who are starting their adventure with stand up paddling, or for recreational weekend trips. Complete set with paddle included, gives you everything that is required for the first sailing on the lakes.

Coral is the first all-round SUP board intended mainly for female paddlers, regardless of the user's level of proficiency. Its unique color will make you stand out on any beach. The combination of Drop-Stitch Light technology (lightweight drop-stitch threads) with electromagnetic welding (HF Welding) technology makes the Coral board much lighter, but without compromising stiffness. Thanks to the additional handles placed on the sides, carrying this 8.6 kg board is effortless. The board comes with color-matched accessories - a pink backpack, a fin and a paddle.

An offer for men

Fusion or Monster - depending on the paddler's weight, we recommend our two bestsellers to beginner users. Both boards will be suitable for trips on the lake, as well as rafting on rivers (eg. Krutynia). In addition, the Monster, thanks to its large displacement, will allow you to take a small companion with you. SUPs are full sets with an adjustable aluminum paddle included, You do not need additional purchases to start swimming.


Beast - for men who intend to swim a lot and try their hand at various waters - lakes, rivers, surfing, we recommend this model. Super stiff and stable, and at the same time quite fast. it will allow for great fun in various conditions.



As with the boards for women users, each SUP set will be complemented by a Leash, i.e. a leash that will prevent the board from flowing away from you, when you end up in the water.
Backpack
If you are going on a trip by train or bus, it is worth getting a comfortable backpack with wheels that will accommodate our SUP board and a paddle. Available in three color variants.

Shoes

Unfortunately, at the bottom of lakes or rivers, we can more and more often find dangerous metal elements or glass fragments that, invisible under water, which can hurt our feet. To protect yourself from this, we recommend quick-drying water shoes, which will also provide you with additional grip on the board.